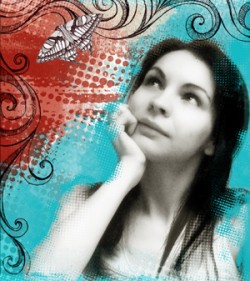 Hello! My name is Elena Covalciuc Vieriu, I am a Romanian graphic designer established in South Florida with my husband. Curious mind, I find all new things exciting and love, love what I do. Started out as an artist, slowly shifted into graphic design mainly with logo and book cover design. Currently I design for both print and web.
Please feel free to browse trough my portfolio or some of my artwork.
Read the interview with Elena at Vesses blog, or get in touch on Twitter and LinkedIn.
Favorite quote:
"I don't think there's any artist of any value who doesn't doubt what they're doing." - Francis Ford Coppola
Education:
Art High School "Octav Bancila"  Romania – Fashion& Textile design .
During High School – 1st International Prize art contest – "Opened Doors" Giurgiu, Romania
University of Fine Arts "George Enescu"  Iasi, Romania – BFA  Textile/Pattern Design (2007)
Exhibitions:  several group exhibitions during High School and University.
I should mention:
2003 -  Debut solo exhibition, Iasi -Romania
2008 – "Step Closer" gallery RFD – Swainsboro, GA (one artwork)
2009 – "Alt Venue"  gallery RFD- Swainsboro, GA (" Peace of mind" and "Overwhelmed")
2009 – "Nude Nite" Tampa FL  ("Daydream")